Here is a list of tools that you can use to change your perspective on whatever it is you're working on. Each tool is a bit different, and some are suited more for a particular endeavor than others, but they all have the value of offering a new framework for whatever it is you're pondering.
This was a new one for me, but what a great idea! Much like Obliques Strategies (see below), the idea is to hit the randomizer button, found in the Special Pages section of Wikipedia, and somehow incorporate something found on that page into your project. If you're struggling with drawing something, draw something found on the page. Or, use words from the article for lyrics. In any case, the rule is that you HAVE to try using something  from the article that pops up, even if you don't keep it in the final product.
Created by Brian Eno and Peter Scmidt, this is the first one that I ever heard of, and it's the idea I keep coming back to. Specifically created for writing music, there are some gems that can be applied to any project. Click the refresh button and commit yourself to applying what the card says, even if you have no idea how.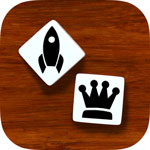 I love this idea! It's so simple, so visual and so powerful! It's a mobile app that rolls out pictures to prompt for character, setting and plot in a story. Nicely executed!